Unveiling the Hidden Gems of Key Largo
Key Largo is a tropical paradise eagerly awaiting exploration. The island, also known as the gateway to the Florida Keys, welcomes visitors year-round from all over the globe. Once you arrive from the mainland, you will feel like you are in a new world. There are a variety of natural wonders and thrilling outdoor activities that are sure to amaze you.
Explore Key Largo's captivating habitats and underwater world. Dive into vibrant coral reefs and discover a variety of colorful marine creatures. There is an abundance of hidden treasures awaiting you here.
In addition, Key Largo has a lot of stunning vacation rentals to offer, suiting every preference and budget. It's the perfect place for a peaceful island getaway or an exciting adventure. A trip to the island of Key Largo is an incredible experience you will cherish for years.
Exploring Key Largo's Natural Wonders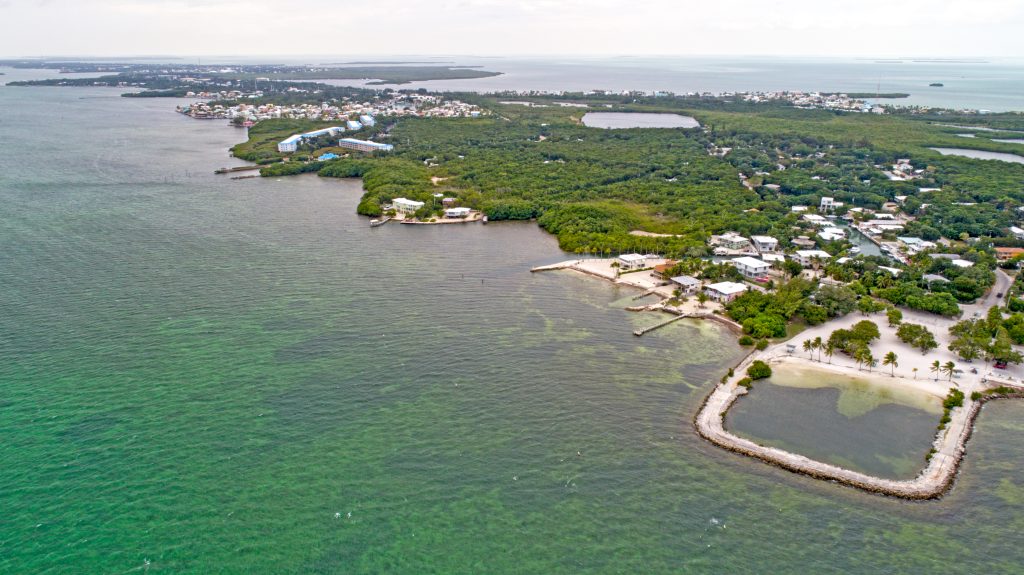 John Pennekamp Coral Reef State Park
Key Largo is an excellent place for people who love nature. On the Oceanside, you'll find John Pennekamp Coral Reef State Park, where you can enjoy all sorts of fun activities.
John Pennekamp State Park is the only underwater park in the United States. The park offers water sports equipment rentals, tours, and other exciting ways to explore the surrounding waters.
The park also has a glass bottom boat tour to see coral formations and marine life up close without getting wet. In addition, you can join a program to learn more about the park's fascinating marine life.
Florida Keys Wild Bird Rehabilitation Center
The Florida Keys Wild Bird Rehabilitation Center is a haven for birds of the Florida Keys. The center cares for hurt and parentless birds, and visitors can join educational programs to learn about the center's work.
The center has birdwatching and guided tours of its aviary for a closer look at the birds living there. It's a great place to see different birds living in the Florida Keys. In addition, visitors can also see the center's work to help care for the birds.
Dagny Johnson Key Largo Hammock Botanical State Park
Dagny Johnson Key Largo Hammock Botanical State Park is a protected area of tropical hardwood hammock and mangrove forests. The park has many unique species, like the American crocodile and Key Largo wood rat.
Visitors can explore the park's trails and boardwalks, fish in the bay, and observe the wildlife. The park also has kayak and canoe rentals for visitors to explore the mangroves and other habitats up close. It's an ideal spot for nature lovers and outdoor enthusiasts to explore and appreciate the diversity of the Florida Keys.
More Things To Do In Key Largo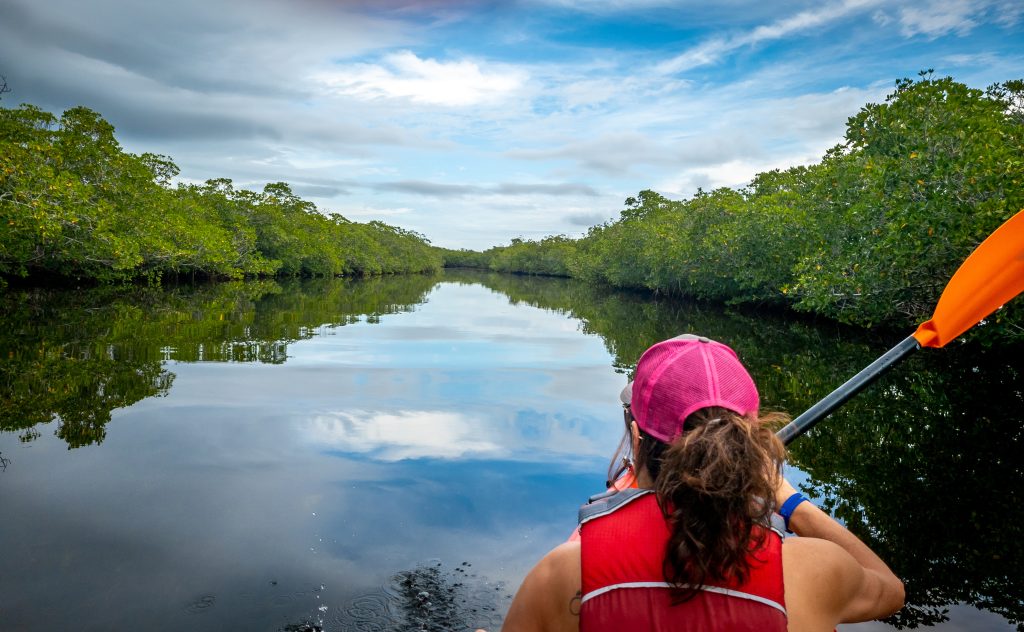 Kayaking through the Mangroves
Key Largo is famous for its diverse habitats, clear waters, and stunning coral reefs, ideal for outdoor activities and exploration. Kayaking is a great way to explore the mangroves, a unique ecosystem of the Florida Keys. Paddling through the winding canals, you can spot manatees, sea turtles, and various birds.
With a knowledgeable guide, you may discover hidden locales on the island. It's also a great way to ensure that you see beautiful scenery and learn about the wildlife along the way.
Click here to discover options for kayaking in Key Largo.
Sunset Cruise
If you're looking for a unique way to experience the beauty of Key Largo, a sunset cruise is a great option. As the sun goes down, you can see the colors in the sky and enjoy the calm atmosphere of the Keys. A sunset boat ride is a great way to unwind and enjoy the beautiful surroundings, making special memories with loved ones.
On the cruise, you can spot local wildlife, such as bottlenose dolphins, manatees, and sea turtles. A sunset cruise is an excellent way to get on the water and see the island of Key Largo. It's also perfect for a romantic date with your partner.
Click here to discover options for sunset cruises in Key Largo.
Visit the African Queen
Visiting the legendary African Queen for a tour of the island is a must when exploring Key Largo. The African Queen is a historic vessel featured in the classic Humphrey Bogart movie of the same name. You can explore the boat and take in the beautiful scenery of the coral reefs and mangroves. Whether you're a movie fan or not, the African Queen experience is captivating and uniquely memorable.
Hidden Gems of Key Largo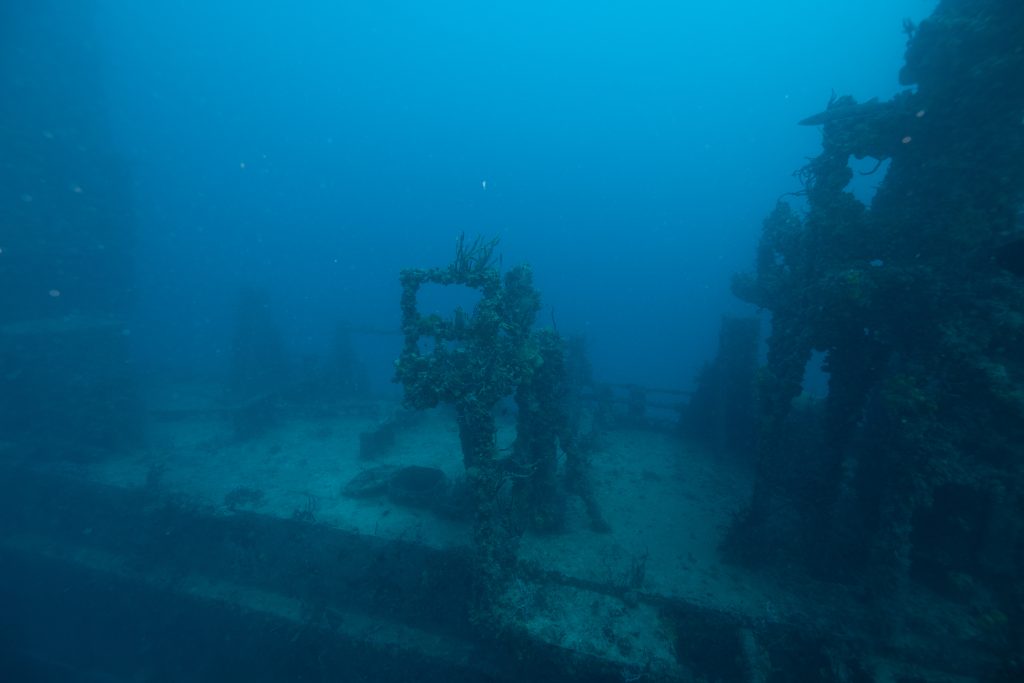 Crocodile Lake National Wildlife Refuge
Visitors to Key Largo looking for a unique outdoor experience should check out the Crocodile Lake National Wildlife Refuge. This refuge is home to various wildlife, including the American crocodile.
Visitors can explore the refuge by guided tours, paddling a kayak, or canoeing around the lake. It's also an excellent spot for birdwatching, with over 200 species of birds documented in the area. The refuge has beautiful views of the Everglades and islands, making it a great place to escape the city's busy atmosphere.
Florida Keys Overseas Heritage Trail
The Florida Keys Overseas Heritage Trail is great for people who want to experience all the islands. The trail is an impressive 106 miles long, stretching the length of the entire Florida Keys.
While traveling, visitors can stop and enjoy many stunning parks and preserves along the way. Furthermore, history enthusiasts can also marvel at the presence of iconic attractions such as the historic railroad.
Spiegel Grove Artificial Reef
Spiegel Grove Artificial Reef is about 6 miles from Key Largo and is a visitor must-see. This reef system helps protect the area's marine life, providing a home for many sea creatures. The reef has many sunken ships to explore, like the well-known USS Spiegel Grove.
The Spiegel Grove Reef offers fantastic views and incredible diving. Divers and snorkelers can explore Spiegel Grove's depths and admire the habitat up close. It's a must-visit for anyone exploring Key Largo's underwater world.
Key Largo Vacation Rentals
Professionally Hosted by KeysCaribbean
Key Largo is a stunning destination and one of the most popular in the Florida Keys. From the spectacular coral reefs to the lush mangroves, there is something for everyone in your group to enjoy here. Key Largo has something to offer whether you're looking for a relaxing poolside vacation or an exciting adventure. With many activities and restaurants to enjoy, you'll always have something to do and discover.
KeysCaribbean is proud to provide a vast selection of diverse and well-appointed vacation rentals in the enchanting Key Largo area. With our extensive range of options, you can quickly discover the rental house that perfectly suits your unique preferences and desires.
We offer rentals to suit all preferences and budgets. Whether you desire a cozy beach bungalow for relaxation or a luxurious villa for indulgence, we have plenty of options. Book your Key Largo rental now to enjoy the stunning beauty and exciting adventures awaiting you on the island.
Mariner's Club Key Largo
Mariner's Club Key Largo is a stunning Oceanfront gem in the heart of Key Largo. The villas have beautiful ocean views and special features like tennis courts, a marina, and two heated pools. One of these is the Oasis Pool, the largest freshwater pool in the Florida Keys!
The neighborhood is near the finest restaurants in the area and various activities and attractions. With its luxurious residences and impeccable service, Mariner's Club Key Largo is the perfect place to enjoy a Florida Keys vacation.
Private Vacation Rentals in Key Largo by KeysCaribbean
We also offer a variety of private home rentals in Key Largo. KeysCaribbean has the ideal vacation rental for you, whether it's a beachfront villa, secluded cabin, or waterfront cottage.
We offer various budget options, from cozy one-bedroom suites to sprawling four-bedroom homes.
Many of our homes have private pools, hot tubs, and kayaks to enjoy during your Key Largo vacation. With KeysCaribbean, you can experience the best of what Key Largo has to offer.